MENU
RS SERIES MODELS
CLASSIC MODELS
OTHER MODELS
SEADOO® SEASCOOTER™ AUSTRALIA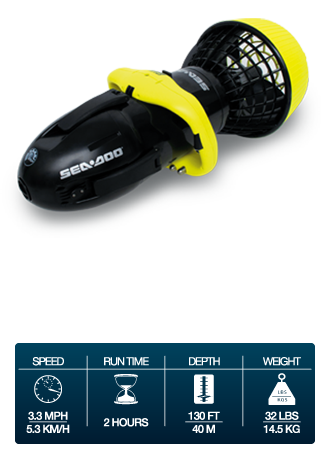 Item - #SD6541-X
FEATURES
New generation SEADOO® SEASCOOTER™ EXPLORER™ X is a superior DPV to the market that is easily accessible to anyone who sees diving as a passion and divers seeking new thrills underwater. The top-of-the-line Explorer™ X features a 3-stageseal waterproof integrity, and is outfitted with new pressure-valve technology that allows smart depressurization of the unit after ascending to the surface. Save air and spend more time exploring new dive sites, reefs and wrecks.
Variable Tri-stage speed control – 3 speeds selection
Weight just 32 lbs / 14.5 kg including battery
Speed up to 3.3 mph / 5.3km/h with battery life of 2 hours based on normal use
Advised maximum depth and standard recreational diving limit 130 ft / 40m


(Maximum tested depth rated to 50m/160ft)

Improved safety features: water protection, low battery voltage protection, over current protection, high temperature protection, audible alert when water ingress, safety lock and auto shut-off function.

Click to open in new window

Click to open in new window

Feature Video - click to watch